I used to read Jugnu Mohsin & Najam Sethi's The Friday Times. Apart from some fairly daring articles, I always loved the funny bits in it. Moni Mohsin's columns were always hilarious. Faisal Naqvi (now a Lawyer and married to Juggan Kazim) used to write some of the most laughable bits in that paper. So did a regular columnist father who wrote funny things under his son's name … but we'll leave that.
My own drawing skills were terrible and were just above my singing skills. So I never ever drew a cartoon, although I was often inspired by Jules Feiffer's work to try my hand at it. I even purchased software to try cartooning on my Mac … but apart from loading it and trying it out, I never worked on it.
And then, on August 6, 1990, President Ghulam Ishaq Khan threw Benazir Bhutto out of the parliament. Oops! I thought her friend would Happy-ly have found out and told her. He was having breakfast with the Pres that morning. But Pres Ishaq could 'dissolve' anything, including his talk at breakfast.
I opened up Comic Strip Factory and decided to make a cartoon strip. (CSF was the best program, I soon discovered. Its gone now and many new programs have come up … but not one offers me the delight I had with that application.) … I drew my very first cartoon. It seemed ok-ish. So I decided I'd send it to Faisal Naqvi. I didn't know him but I thought he might like this a bit. So off it went, with a little note saying I loved his work. The letter was signed Zak. No full name or address.
October 6th: I was sitting on my Thinking Throne, reading that week's TFT, when I got a call from Tariq Jafar, a friend and a fellow Apple Computer dealer. "TFT wants you", he said. "There's an ad inside that says they are looking for ZAK." - I had the paper so I looked inside and there it was.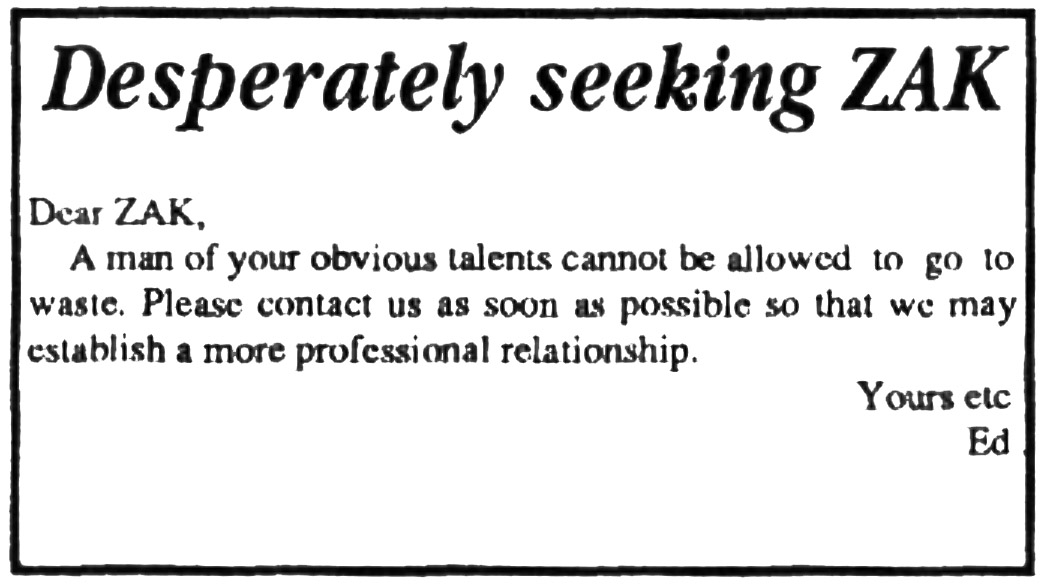 "Tariq, that could be anybody," I said to him, laughing. "There are so many names possible. And why on earth would they want me?" … "Really," said TJ. "Well, go further down the pages and you'll find they've got your cartoon on it." … I looked ahead, still laughing, and came across a cartoon - slightly truncated to lose a graphic that they didn't want to print.

Gerry Kahn (For Geriatric Khan) who was the President.
The Shadows we can't name!
Husain was for Husain Haqqani.
I asked TJ why he thought it was mine. He said, "I don't think anybody with those initials and a sense of crazy humour could be anyone else but you." … I said, "Nopes. It wasn't me", and we forgot it at that.
About three weeks later I drew a small 2-column cartoon (you'll see it on the published date) and put it in an envelope marked "For FN", and went off to listen to a lecture by Najam Sethi on what the removal of Benazir meant for all of us. I went up to him during the interval and asked him if he could give this to FN. He took it and went back to his friends.
A few minutes had passed when Najam came up to me, with the cartoon open, and the conversation went something - not verbatim - like this:
NS: How do you know ZAK?
Me: Why?
NS: I saw this cartoon and I thought it had to be a kid in the American School who knows cartooning. I sent off colleagues to find him. No one knew about him there. And now you are giving me his cartoon in Karachi. Does he go to the American School here? How do we contact him?
Me: Here's my business card. Read my initials.
NS: What? It's you??? You've got to draw some for TFT.
Me: I don't draw cartoons. These were just two that I drew. I can't start drawing for you.
NS: You'll her from me again, soon.
And that was the start.
(If cartoons in posts look too small, click on them. They'll enlarge.)
•••••
Ad & Cartoon in TFT : October 4-10, 1990